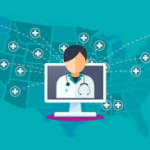 Advancements in technology almost always outpace efforts by legislators and regulators to address the new realities, issues, and concerns that arise from such innovations. Laws that made sense even a short ten years ago can quickly become anachronistic, if not counterproductive.
Such is the dilemma facing physicians and healthcare providers who see telemedicine as a key way to address a growing physician shortage, especially in rural and other underserved areas. That shortage is expected to grow to 120,000 doctors by 2030, according to a 2018 report by the Association of American Medical Colleges.
51 Different Licenses
The problem is that while the internet knows no borders, medical licenses do. Increasingly, the inability of physicians to provide remote care to patients in other states where they are not licensed is holding back telemedicine's potential and unnecessarily denying patients access to quality healthcare.
Physicians must be licensed in each state where their current and future patients are located, so a doctor wanting to counsel patients through telemedicine would need to obtain and stay compliant with licensing requirements in up to 51 jurisdictions governed by 51 different medical boards imposing 51 different standards, conditions, and rules.
The current state-based medical licensing regime traces its roots back to the 19th Century, and the system is clearly showing its age. While effective and robust licensing is still essential in ensuring quality of care, the lack of license reciprocity and portability between states is now more of a hindrance to providing such care than a help.
That is why already active efforts to change medical licensing to facilitate telemedicine continue to gain steam. The most successful of these efforts to date has been the Federation of State Medical Licensing Board's (FSMB) work establishing the Interstate Medical Licensure Compact. Physicians in good standing can freely practice in any of the states participating in the compact so long as they possess a "full and unrestricted" license in their state of principal license (SPL). To date, only 24 states, including Illinois, have joined the compact.
A Uniform, Nationwide System
This still leaves too many doctors and too many patients locked out of telemedicine. As noted by the authors of a recent article in the American Journal of Managed Care, "The impact of restricting telemedicine falls hardest on poor patients, the uninsured, and those who rely on state Medicaid programs, many of whom lack access to reliable transportation and cannot travel across state lines to see specialists."
That is why the FSMB and other telemedicine advocates have advanced several proposals to enhance license portability and reduce regulatory barriers to telemedicine. They all are based around a mutual recognition scheme whereby states honor each other's medical licenses based on models that have been successfully used in Europe and Australia and by the Veterans Health Administration, US military, and US Public Health Service.
Adoption of a nationwide licensing scheme would be facilitated by establishing consistent standards for using and regulating telemedicine services, the sharing of malpractice, medical error, and license cancellation or suspension information between states, and other federal and state-level reforms.
Any efforts that would streamline the physician licensing process while at the same time increasing access to healthcare for those who need it most should be encouraged.
Louis R. Fine: Chicago Physician License Defense Attorney
Throughout my career, I have been protecting the livelihoods and professional futures of physicians and other health care providers before the IDFPR, combining insight and experience with zealous and strategic advocacy.
The moment you are contacted by IDFPR or learn that you are under investigation is the moment that you should contact me. I will immediately begin communicating with IDFPR prosecutors and work with you to develop the strategy best suited to achieving the goal of an efficient, cost-effective outcome that avoids any adverse action. Together, we will protect your Illinois physician's license and get you back to your patients and your career.
Please give me a call at (312) 236-2433 or fill out my online form to arrange for your free initial consultation. I look forward to meeting with you.