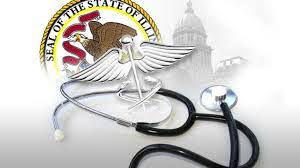 Simply saying something doesn't make it so. Just because you believe a proposition doesn't make it true. And wanting a certain result doesn't entitle a person to get it. If you are going to advocate for a position or seek an outcome based on claims you make, you better have the receipts to back it up. That is a fundamental proposition of our judicial system. A party seeking relief, whether a plaintiff in a civil lawsuit, a prosecutor in a criminal case, or a defeated president in a flurry of desperate and delusional litigation, must meet the applicable burden of proof to prevail. So too must the Illinois Department of Financial and Professional Regulation (IDFPR) when pursuing disciplinary action against a physician, as does a doctor seeking to have their license reinstated.
But, as we have seen over the past month, anyone can file a lawsuit for anything based on nothing whatsoever. As long as you pay the court filing fee, you could sue me today for implanting listening devices in your molars. Of course, as we have also seen, cases based on implausible allegations unsupported by any facts or evidence usually meet a swift demise. And those who bring such frivolous claims without a reasonable basis for doing so can and should face consequences for their actions.
Allegations v. Burden Of Proof
The burden of proof, however, does not refer to what a party must show when they initiate a proceeding, though there does need to be a good faith basis in fact and law for pursuing a case in the first place. Rather, it is what a party must ultimately prove to a judge, jury, or hearing officer to get the relief or result they seek.
When the IDFPR launches disciplinary proceedings in a physician licensing matter, they do so after conducting an investigation and gathering facts to support their filing of a formal complaint. Similarly, it gathers facts and evidence when making a decision as to granting or restoring a license. While the facts that the Department may rely upon may be weak, disputed, or of questionable veracity, IDFPR rarely pursues cases or makes license decisions without at least some evidence that could plausibly justify their efforts.
Allegations in a complaint, as noted, are just that – allegations. And the decision to deny a license renewal or issue a reinstatement can be challenged by an applicant or licensee. This is where the parties need to put up or shut up
Disciplinary Action and Refusals To Renew: Burden of Proof Is On The IDFPR
Section 1110.190 of the Illinois Administrative Code provides that the burden of proof rests with the Department in all cases it institutes by filing a Complaint or Notice of Intent to Refuse to Renew a physician's license. An Administrative Law Judge may make a recommendation for discipline only when the IDFPR establishes by clear and convincing evidence that the allegations of the Complaint or Notice are true.
While a somewhat nebulous concept, as all burdens of proof are, "clear and convincing" evidence generally means that degree of proof which, considering all the evidence in the case, produces the "firm and abiding belief that it is highly probable" that the allegations in the IDFPR's formal complaint are true. This standard falls between the "beyond a reasonable doubt" burden of proof that prosecutors have in criminal cases and the "preponderance of evidence" standard applied in most civil lawsuits.
License Denials And Requests For Reinstatement
"Clear and convincing" evidence is also the standard the Department must meet when filing a Notice of Intent to Deny the issuance of a physician's license. Specifically, if the Notice of Intent to Deny alleges that the applicant has violated a disciplinary provision of the Medical Practice Act, IDFPR has the burden of proof to prove by clear and convincing evidence that the alleged violation occurred.
If the Department meets this standard in a physician licensing case, the burden of proof then switches to the physician, who must prove by a preponderance of the evidence that the license should be granted. As noted, preponderance of the evidence is a more lenient standard, meaning that it is more likely than not that the facts supporting the physician's reasons why they should be issued their license are true.
The preponderance of the evidence standard also applies when a physician files a Petition for Hearing seeking restoration of their license. The burden of proof is on the physician rather than IDFPR in license restoration hearings.
Even when the Department bears the burden of proof, it has many unfair advantages over licensees in terms of gathering and producing evidence. As I have discussed in a previous post, a licensee's ability to pursue the discovery and obtain the evidence necessary to challenge IDFPR's allegations is extremely limited. In fact, the extent of allowable discovery is determined by the very people prosecuting the case. The inherent unfairness of IDFPR's discovery rules is just one of many reasons why physicians need experienced professional license defense counsel at their side when their careers and practices are at stake.
Louis Fine: Chicago Physician Licensing Attorney
The moment you are contacted by IDFPR or learn that you are under investigation is the moment that you should contact me. I will immediately begin communicating with IDFPR prosecutors and work with you to develop the strategy best suited to achieving the goal of an efficient, cost-effective outcome that avoids any adverse action. Together, we will get you back to your patients and your practice.
Please give me a call at (312) 236-2433 or fill out my online form to arrange for your free initial consultation. I look forward to meeting with you.