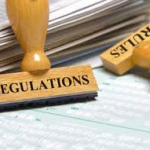 The current administration is pushing radical deregulation across almost every aspect of the nation's economic and public life. Most of these efforts are not designed with the public good in mind and are instead focused on advancing the interests of those who would financially benefit from the elimination of regulations such as those which protect the environment, enhance workplace safety, or ensure opportunity and protections for the disabled or other vulnerable groups.
However, even a stopped clock is right twice a day, and one regulatory framework is rightfully being reexamined to see whether it is in fact doing more harm than good. Specifically, the push to reevaluate and reform state professional and occupational licensing regimes keeps gaining steam.
Federal Dollars for State Licensing Reform
Premised on concerns that too many jobs are subject to too many licensing requirements, and that these regulations are creating financial and practical barriers to people seeking to enter scores of occupations, an increasing number of voices are calling on states to make dramatic changes to their laws. This now includes the U.S. Department of Labor (DOL). Under a recently announced grant program, the federal government is offering states millions of dollars to review, eliminate and reform their licensing requirements.
Under the State Occupational Licensing Review and Reform grant program, individual states, including Illinois, can apply for up to $450,000 in funding to "review and streamline occupational licensing requirements in state-identified occupations and to promote portability of state licenses to and from other states." Illinois has already joined a consortium of 10 other states who have been doing just that in conjunction with an existing DOL effort.
Consumer Protection v. Economic Opportunity
Why is this a necessary and even positive development? After all, the underlying premise of occupational and professional licensing requirements is to protect consumers and ensure that those holding themselves out as skilled or competent in providing services are in fact skilled and competent.
Protecting the public from charlatans and hacks is unquestionably a public good. Few people will argue that doctors, lawyers, accountants, or dentists should not be regulated to ensure that they meet certain basic requirements of training, skill, and ethics.
But reform advocates argue that there are way too many occupations which are subject to licensing requirements. For example, the Illinois Department of Financial and Professional Regulation (IDFPR) is responsible for reviewing license applications in 235 separate categories covered by 61 different professional license acts. It licenses and regulates over 1 million professionals and firms throughout Illinois.
Economists and others have argued that professional licensing requirements for many occupations present unnecessary barriers that keep many people from entering those jobs while not significantly adding to consumer protection.
In announcing the grant, Secretary of Labor Alexander Acosta said:
"Excessive licensing raises the cost of entry, often prohibitively, for many careers, barring many Americans from good, family-sustaining jobs. In 1950, only 1 in 20 jobs required an occupational license. Today, more than 1 in 4 require a license to work… If licenses are unnecessary, eliminate them. If they are necessary for health and safety, then streamline them and work with other states for reciprocity."
Indeed, a 2015 study by the Brookings Institution found there were "far more cases" in which licensing reduced employment than ones where it improved the quality and safety of services. The restrictions have resulted in 2.8 million fewer jobs nationally and raised consumer costs by $203 billion annually, the study found.
When combined with the unfairness of the professional license disciplinary process, the overzealous exclusion of qualified individuals from their chosen occupations, especially those occupations which do not implicate health, safety, or financial concerns, is worthy of serious reconsideration.  .
Louis Fine: Chicago Professional License Defense Attorney
As a former Chief Prosecuting Attorney and administrative law judge for IDFPR, I have seen the serious consequences that an adverse enforcement decision can have on professionals who suddenly find their future in disarray. I understand how and why the Department decides to pursue investigations, how it handles negotiations, and how to approach formal proceedings in a way that gives my clients the best possible chance of a positive and expeditious outcome.
Please give me a call at (312) 236-2433 or fill out my online form to arrange for your free initial consultation. Together, we will get you back to your clients and your career.