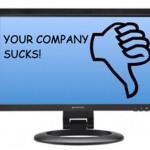 If you own a small business or are a professional and have customers and clients, there is a good likelihood that someone has published an online review of your company and its goods or services. From Yelp to Angie's List to TripAdvisor to any number of websites tailored to particular interests or industries, online reviews can have a profound impact on your business.  Even one negative review can be devastating.
You can find a lot of tips and do's and don'ts online about how to handle such negative reviews from a strategic and business perspective. On more than one occasion I have had a panicked and apoplectic client ask me whether he can sue the author of a negative review for defamation.
The answer is, of course you can sue "IHateYourBusinesss123"" or whomever made the post. But the reality is that much of what is written in even the most scathing negative review will likely not qualify as actionable defamation. Furthermore, such lawsuits themselves can open up the business owner to further scorn, ridicule, and bad publicity in the fickle social media world.
As a preliminary matter, most online review sites and other platforms (Facebook, Yahoo, Google+, etc.) where comments may appear are immune from liability for defamatory comments in reviews as a matter of federal law. Section 230 of the Communications Decency Act shields such sites from claims based on comments posted by third parties.
What is Defamation in Illinois?
In Illinois, in order to prove defamation, including a claim based on an online review, a plaintiff has to prove:
the defendant made a false statement about the plaintiff;
there was an unprivileged publication to a third party;
fault by the defendant amounting to at least negligence; and
the publication damaged the plaintiff.
There is a special category of defamation that does not require a plaintiff to prove actual damages. Defamation per se, as it is called, involves specific statements that are deemed inherently damaging. These statements include ones which assert that the plaintiff:
is infected with a "loathsome communicable disease" (e.g. a sexually transmitted disease, HIV, hepatitis, etc.)
has a lack of ability to perform their professional duties, or otherwise harms the plaintiff in their professional reputation
lacks integrity in their professional duties
has committed fornication or adultery
has committed a criminal act
Provable Fact v. Opinion
The most common issue that distinguishes an actionable defamation claim based on online reviews from one likely to fail is the issue of whether or not a statement was false. Only false statements of fact can be the basis of a defamation claim, not opinions. A statement of fact has to be able to be objectively proved or disproved. Consider the two following hypothetical restaurant reviews:
"That was the most disgusting and flavorless meal I have ever had in my life."
"The waiter spit in my food."
The former is non-actionable opinion, as it cannot be objectively proven that the meal was the "the most disgusting and flavorless" one the reviewer ever had. Conversely, the latter is a statement of fact; it can be proven (perhaps not easily) whether or not the waiter spit in the diner's food.
Additionally, Illinois courts emphasize the context in which an allegedly defamatory statement has been made in determining whether the statement can be the basis of a claim. Even if a single statement in a long rant is arguably a statement of provable fact, it may not constitute defamation if a reasonable reader would see it simply as invective.
Consider Brompton Building, LLC v. Yelp, Inc., a 2013 Illinois Appellate Court decision in which a building management company sued an anonymous former tenant who had posted a hyperbolic, scathingly negative, and extremely lengthy online review. Even though the rant contained a few objectively verifiable statements, the court found that it could not support a defamation claim because in context they would not be understood to be actual factual allegations. As the court noted, "The context of the defamatory statements is critical in determining its meaning. In determining the context of the defamatory statements, we must read the writing containing the defamatory statement 'as a whole.'"
Careful How You Respond – Especially if You're a Physician
The bottom line for business owners and professionals is that a lawsuit in response to outrageous internet reviews and comments that make their blood boil and their businesses suffer may not be the best course of action.  While certain false statements of fact in such comments can be the basis of a defamation claim, business owners and professionals should carefully consider how to proceed lest their response make a bad situation worse.
This is especially true if you are a physician. Doctors and other health care professionals are regularly reviewed online, and some of those reviews come from disgruntled patients who may publicly criticize the treatment they received. The problem is that in an effort to defend the care they provided, some doctors have revealed confidential patient information in comments they have posted in response to negative reviews. Such HIPPA violations, as with other online professionalism mistakes, have serious licensing and regulatory consequences. Any doctor wanting to post an online response to a patient complaint should think long and hard about how they do so – and whether they should respond at all.