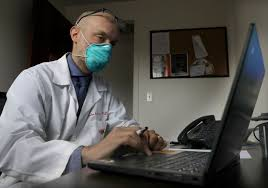 We are now in Phase 3 of Gov. JB Pritzker's five-phase Restore Illinois plan. For medical practices throughout the state, this means that many individuals who have delayed or deferred elective procedures, screenings, and other non-COVID-19 visits are now scheduling these visits. For physicians and staff at medical offices, returning to the routine care and treatment of patients will be anything but routine.
Healthcare providers across the country have been modifying their policies, practices, and procedures to comply with state and local requirements for the protection of both patients and staff. In Illinois, that means following safety guidance from the Illinois Department of Public Health. Additionally, the Centers for Disease Control & Prevention (CDC) has issued its "Framework for Healthcare Systems Providing Non-COVID-19 Clinical Care During the COVID-19 Pandemic" to help guide clinicians in their decision-making.
But on a more granular level, the modifications that practices must make to their clinical care and general operation can be quite extensive and require planning, thoughtfulness, and diligence in both formulation and execution. To help guide physicians in this regard. The American Medical Association (AMA) has compiled a reopening guide with actionable information, proposed best practices a checklist, and other resources to ensure that medical practices are ready to reopen.
Among the resources provided by the AMA is a list of mistakes that practices should avoid when reopening. Not only can such missteps put the health and safety of patients and staff at risk, but they can also draw the scrutiny of authorities who will not hesitate to intervene if a practice is not following required precautions.
Some "don't's" physicians should avoid when reopening, per the AMA, include:
Don't jump the gun. Stay in line with the latest requirements and limitations issued by the governor, IDPH, and local authorities. These change frequently with events, so it is imperative that you keep continuously abreast of what is and isn't permitted in terms of patient care and office safety.
Don't assume your supply chain will return to normal. Assess your practice's current inventory and future needs for personal protective equipment and order enough to have on hand when reopening.
Don't allow non-patient visitors. Clearly post on your website and practice door your revised visitor policy. Reroute vendors, salespeople, educators, and service providers (other than caregivers) to phone or videoconference communication.
Don't presume that your obligations as an employer are the same. In addition to new safety precautions and procedures for you and your staff, the pandemic has changed the rights of employees and the obligations of employers in several respects. From paid sick leave and family medical leave to ADA issues and more, practices should consult with experienced counsel to ensure that they avoid any exposure related to their employment practices.
Louis Fine: Chicago Professional License Defense Attorney
This is an unprecedented and challenging time for everyone, including and perhaps especially, for medical professionals. During this crisis, I remain committed to being a resource, counselor, and advocate for all Illinois licensees as they navigate the rapidly changing legal, regulatory, and practical landscape.
If you have questions or concerns about your professional license or COVID-19, please contact me immediately. Call (312) 236-2433 or fill out my online form to arrange for your free initial consultation. I look forward to meeting with you.