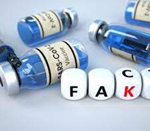 As I discussed in a post a few months back, physicians across the country are being called out for spreading misinformation and disinformation regarding COVID-19, vaccines, and the efficacy of other preventative measures such as masking. During the summer, the Federation of State Medical Boards (FSMB) issued a stern admonition about the misinformation epidemic among members of the profession, stating unequivocally that "Physicians who generate and spread COVID-19 vaccine misinformation or disinformation are risking disciplinary action by state medical boards, including the suspension or revocation of their medical license."
Recently, the Illinois Department of Financial and Professional Regulation (IDFPR) explicitly confirmed that they see physician disinformation about COVID-19 as a serious ethics violation warranting equally serious disciplinary action. Illinois doctors who peddle information about the virus or vaccines that is not based on sound science risk losing their professional licenses and careers.
On November 5, 2021, IDFPR issued its "Notice that Advice or Treatment Regarding Covid-19 Must Conform with Evidence-Based Medicine and Standards of Care." It began by reminding physicians that, as a general matter, "any advice or treatment provided to a patient must conform with evidence-based medicine and standards of care and that failure to do so may subject the individual to disciplinary action under the Medical Practice Act."
The Department further noted that "Engaging in dishonorable, unethical, or unprofessional conduct of a character likely to deceive, defraud or harm the public" is a violation of the Medical Practice Act at 225 ILCS 60/22(A)(5). IDFPR makes it clear that it sees COVID-19 misinformation or the recommendation of unproven and unapproved treatments as conduct "likely to deceive, defraud, or harm the public."
The notice calls out three specific forms of COVID-related misconduct that it views as possible ethical violations:
Issuing Mask Exemptions For Non-Patients
As kids returned to school this fall in districts with mask requirements, reports emerged about physicians issuing medical exemption notes to parents of schoolchildren with whom they did not have a doctor-patient relationship. For example, one Pennsylvania doctor who is vocally anti-mask is facing disciplinary action for posting a stock, four-page exemption letter on the homepage of his practice's website that invited people to "print your own copy."
IDFPR stated unequivocally that such conduct is a violation of the Medical Practice Act:
"A physician or other licensed healthcare professional who provides a mask exemption to an individual with whom they do not have a clinician-patient relationship and for whom they have not provided a medical diagnosis that justifies a mask exemption as put forth in the CDC guidelines, is in violation of their respective licensing Act and may be subject to disciplinary action by IDFPR."
Ivermectin And Other Non-FDA Approved Treatments
Since the pandemic began, people from TV preachers to conspiracy theorists to herbalists to twice-impeached former presidents have peddled all kinds of snake oil for preventing or treating COVID-19. This includes the horse deworming medication Ivermectin.
Noting that the CDC has issued an official health advisory regarding severe illness associated with the use of products containing Ivermectin to prevent or treat COVID-19, IDFPR stated that  "A physician or other licensed healthcare professional who prescribes Ivermectin in a manner inconsistent with the CDC's recommendations may be subject to discipline."
COVID-19 Misinformation By Physicians
Finally, IDFPR voiced its strong support for FSMB's statement on misinformation relating to COVID-19 as quoted above. It also announced that it would follow the joint statement from the American Board of Family Medicine, the American Board of Internal Medicine, and the American Board of Pediatrics about COVID-19 misinformation by physicians in which they concluded that "providing misinformation about a lethal disease is unethical, unprofessional and dangerous."  That statement also said that the groups "want all physicians certified by our Boards to know that such unethical or unprofessional conduct may prompt their respective Boards to take action that could put their certification at risk."
The IDFPR also encourages anyone who becomes aware of a licensed health professional's dissemination of misinformation or practice inconsistent with current state and federal guidelines regarding COVID-19 to file a complaint.
IDFPR's firm stand against COVID-19 misinformation should put all Illinois medical professionals on notice that their words about COVID vaccines have consequences, not only to the health and well-being of the general public, but to their careers and reputations as well.