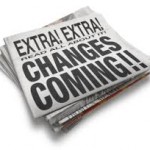 No more grounds for divorce other than "irreconcilable differences." No more "custody" and "visitation," only allocation of "parenting time" and "parental responsibilities." These are just a few of the sweeping changes coming to Illinois divorce law when the calendar changes to 2016.
This summer, Gov. Bruce Rauner put his signature on SB 57 (now Public Act 099-0090). This law modifies a number of sections of the Illinois Marriage and Dissolution of Marriage Act as well as other related statutes. The changes are effective as of January 1, 2016.
No One Ever is To Blame
One of the biggest changes is the elimination of all grounds for divorce other than "irreconcilable differences."
As the law stands now, you can file for divorce alleging any number of grounds (such as adultery, physical cruelty, or mental cruelty) or you can simply assert that there are "irreconcilable differences" between you and your spouse, which is the legal term for "this just isn't working out."
However, if you filed on that latter "no-fault" basis, you would either have to live separate and apart for two years before you could seek a divorce or agree to a waiver, which would still require a six-month wait.
Under the revised law, the only basis for filing for divorce is "irreconcilable differences" and, if both parties agree, they can proceed with a divorce immediately (if they don't agree, there is still a six month living separately requirement).
Allocation of "Parental Responsibilities" and "Parenting Time"
Current law about where children reside and how much time they spend with each parent is framed in terms of "custody" and "visitation." The revised law throws those ideas out the window, drilling down to and specifically allocating all of the individual "parental responsibilities" involved in raising a child as well as allocating "parenting time."
As has always been the case, "the best interests of the child" is the North Star on which all decisions relating to kids are made. In the new framework, the parties can either reach agreement on a "parenting plan" or the court "shall allocate to one or both of the parents the significant decision-making responsibility for each significant issue affecting the child." Section 602.5(b). These "significant issues" include:
Health
Education
Religion
Extracurricular activities
As to allocation of "parenting time," the court will look at many of the same factors it currently does in making "custody" determinations, including:
the amount of time each parent spent performing caretaking functions in the previous two years
any prior agreement or course of conduct between the parents relating to caretaking functions with respect to the child
the child's needs
the distance between the parents' residences, the cost and difficulty of transporting the child, each parent's and the child's daily schedules, and the ability of the parents to cooperate in the arrangement
the willingness and ability of each parent to place the needs of the child ahead of his or her own needs
Relocation Restrictions
Parental relocation is often a sticky issue. Currently, a parent with residential custody can move anywhere within Illinois. Under the new law, some moves require notice to the other parent and ultimately approval by the court if the non-moving parent objects. Specifically, notice and/or approval is required if:
a parent with residential custody residing in Cook, DuPage, Kane, Lake, McHenry, and Will counties is seeking to move more than 25 miles from their current residence
a parent in any other Illinois county is seeking to move more than 50 miles from their current residence
Additionally, a parent with residential custody can move up to 25 miles away without agreement or approval even if the new residence is across the Illinois state line.
Call Me If You Have Questions
There are many other changes to Illinois divorce law that are part of this overhaul as well. If you are considering a divorce and have questions about how these changes to the law may impact your decision-making, please give me a call at (312) 236-2433 or fill out my online form to arrange for a consultation.