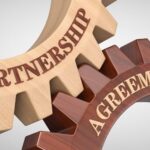 Solo dental practitioners get to call all the shots, run their practice as they like, and control their own destiny. But going it alone also means paying all the bills, covering all overhead, assuming all management responsibilities, and competing with other practices that may have greater resources and reach. That is why many solo practitioners ultimately decide to join forces with one or more colleagues and form a dental partnership.
But for a dental partnership to succeed, the partners need to start on the right foot and be on the same page. As with marriages, the relationship between dental partners can deteriorate if they have different understandings of their roles and responsibilities, fail to communicate expectations clearly, or otherwise disagree on the management or direction of the practice. While no document can guarantee that a dental partnership will last forever, a well-crafted dental partnership agreement prepared with the assistance of experienced counsel can minimize the likelihood and fallout from conflicts and maximize the potential for a long and lucrative professional relationship.
As you contemplate your prospective partnership agreement, pay particular attention to these four key provisions:
Management Rights
Not all partnerships and not all partners are created equal. While an equal say in management may work for some, it may not be desired or optimal in other circumstances, such as when a more senior dentist joins forces with a more junior one.
A partnership agreement should specify who has the authority to make decisions, what decisions they are empowered to make, and how and when they can delegate decision-making authority. The agreement may also stipulate that certain, more significant management decisions require the approval of all or the majority of partners.
Non-Competition and Non-Solicitation Provisions
As much as a dental partnership may benefit all partners today, tomorrow may see one of the dentists decide to move on to greener pastures. When that happens, the remaining partner will want to ensure that those pastures don't fill up with their existing patients and employees.
That is why dental partnership agreements frequently include non-competition and non-solicitation provisions. However, these provisions must be carefully tailored and not be overly broad or oppressive. Courts do not generally favor contractual provisions that limit the ability of someone to earn a living in their chosen profession, so judges carefully scrutinize these clauses, and deem them unenforceable if they are overly broad in scope or too vague.
Admission of New Partners
The partnership agreement should set forth if, how, and when new dentists may join the practice. Such provisions may include stating a minimum capital contribution that a prospective partner must make to join the practice or clarifying whether the decision to admit a new partner is subject to vote by the other partners. To ensure the new partner meets the partnership's standards and qualifications, the agreement may include representations and warranties made by the incoming partner about their licensure status, malpractice history, and other matters.
Exiting the Practice
As noted, partners may decide to move on. The agreement should include provisions that establish a clear, orderly, equitable way for a dentist to leave the partnership. The contract may address whether a partner may dissociate before a set period and which events may be grounds for dissociation. It can also provide a buyout formula when a partner decides to leave according to the terms of the agreement or liquidated damages or other remedies if a partner dissociates in violation of the partnership agreement.
Serving The Dental Community For Decades
Over the past several decades, I have provided counsel and guidance for the dental community and other professionals licensed by the Illinois Department of Financial and Professional Regulation on a wide range of legal matters. If you are considering entering into a dental partnership, please give me a call at (312) 236-2433 or fill out my online form to arrange for your free initial consultation.