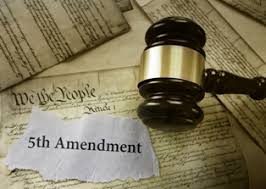 As you know from years of watching TV courtroom dramas or the travails of real-life politicians, people under criminal investigation or who are facing charges often "plead the Fifth" -that is, refuse to provide statements or testimony – because they fear that what they say can and will be used against them in those proceedings.
Similarly, many physicians or other professionals licensed by the Illinois Department of Professional Regulation (IDFPR) can find themselves under investigation or facing disciplinary action by the Department for acts which could also be the basis for criminal prosecution. For example, a doctor who improperly prescribes medication could face the loss or suspension of his or her license and also be charged with a crime for such conduct.
In such situations, can or should the respondent in an IDFPR proceeding exercise their rights under the Fifth Amendment when their answers could result in criminal liability?
Fifth Amendment Applies in Disciplinary Proceedings
The Fifth Amendment provides that "No person shall be… compelled in any criminal case to be a witness against himself…" This privilege has also been incorporated in the Illinois Constitution. (See Ill. Const. 1970, art. I, § 10.) The privilege essentially means that no person, without proper immunity, can be required to implicate himself in a crime.
Although by its literal terms applicable only in criminal proceedings, the Fifth Amendment privilege against self-incrimination has long been held to be properly asserted by parties in civil proceedings.
The logic behind applying the privilege in civil cases also applies to administrative actions such as IDFPR investigations and disciplinary proceedings, and can be asserted not only at a hearing, but during the investigation and discovery stage as well. As the U.S. Supreme Court has stated:
"A witness' privilege against self-incrimination `not only protects the individual against being involuntarily called as a witness against himself in a criminal prosecution but also privileges him not to answer official questions put to him in any other proceeding, civil or criminal, formal or informal, where the answers might incriminate him in future criminal proceedings.'"
As such, you can "plead the Fifth" before the IDFPR. The question of whether you should exercise your right against self-incrimination is a more complicated question.
A Tough Decision
Anybody faced with this choice faces a variation of the same dilemma. As the Supreme Court put it: a party must weigh "the advantage of the privilege against self-incrimination against the advantage of putting forward his version of the facts[.]" Accordingly, a "party who asserts the privilege against self-incrimination must bear the consequence of lack of evidence."
What makes the choice even trickier is that, unlike in criminal proceedings, IDFPR hearing officers can draw an adverse inference from the professional's refusal to testify and hold it against the professional so long as there is other sufficient evidence to support their findings.
The gravity and implications of exercising your Fifth Amendment rights in an IDFPR proceeding require careful thought and a consideration of all of the possible consequences. It is a decision that will be based on the specific circumstances of your disciplinary matter as well as the possible criminal repercussions of the acts under investigation. It is a decision that should only be made in consultation with your lawyer.
Louis Fine: Chicago Professional License Defense Attorney
The moment you are contacted by IDFPR or learn that you are under investigation is the moment that you should contact me. I will immediately begin communicating with IDFPR prosecutors and work with you to develop the strategy best suited to achieving the goal of an efficient, cost-effective outcome that avoids any adverse action. Together, we will get you back to you clients and your career.
Please give me a call at (312) 236-2433 or fill out my online form to arrange for your free initial consultation. I look forward to meeting with you.