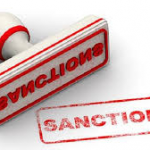 In recent posts, we've discussed the investigations and disciplinary proceedings which the Illinois Department of Financial and Professional Regulation (IDFPR) conducts when a professional's license comes under its scrutiny.
At various points in these processes, complaints may be dismissed or matters resolved without the imposition of any sanctions or other actions which could damage the licensee's career or reputation. But in many cases, the IDFPR may conclude that disciplinary action is warranted. What that action may be, what it means, and how it may impact your life and livelihood can vary wildly. If you receive an IDFPR complaint or are facing administrative proceedings, it is crucial that you understand the potential consequences the IDFPR can impose if they find that your conduct merits it.
The following are some of the possible sanctions the IDFPR can levy on professional licensees:
Reprimand. While a reprimand will not limit your ability to work or practice, it may require monitoring and is an official public record of discipline.
Probation. If you are placed on probation, you will be able to continue working or practicing subject to specific conditions and limitations established by the Department. As with probation in the criminal justice system, a violation of any of the imposed terms will create further problems potentially involving further discipline. The probation term could be for a set period which will automatically expire providing all conditions were complied with or it could be for an indefinite time, requiring that the licensee petition the board to terminate the probation.
Suspension. If your license is suspended, you are prohibited from working in your profession during the suspension term. As with probation, the duration of suspension can be set or indefinite.
Summary or Temporary Suspension. If the Department determines that a licensee's continuation in practice poses an imminent danger to the public, it can take immediate action by summarily or temporarily suspending a license. The license remains suspended pending a hearing on the case
Revocation. If the Department revokes your license, you cannot work or practice in your chosen profession until further notice. If no term is stated, you must wait a minimum of three years before you can file a Petition for Restoration.
Refusal to Renew. Licensees who are refused renewal are ineligible to renew their license and are prohibited from practice after the expiration of the date of their license, though they may file a Petition for Restoration.
Fines. A monetary penalty can be levied alone or in conjunction with any of the foregoing sanctions.
If the Department is seeking any of these sanctions against you or offers to resolve your matter through a consent order in which you agree to the imposition of a specific penalty, it is imperative that you consult with an experienced Chicago professional license defense attorney if you haven't done so already. You need to fully understand the implications of any possible sanctions so you can make an informed decision about how to proceed. Your future is at stake; it is no time to go it alone.
Please give me a call at (312) 236-2433 or fill out my online form to arrange for your free initial consultation. I look forward to meeting with you.